General Laborer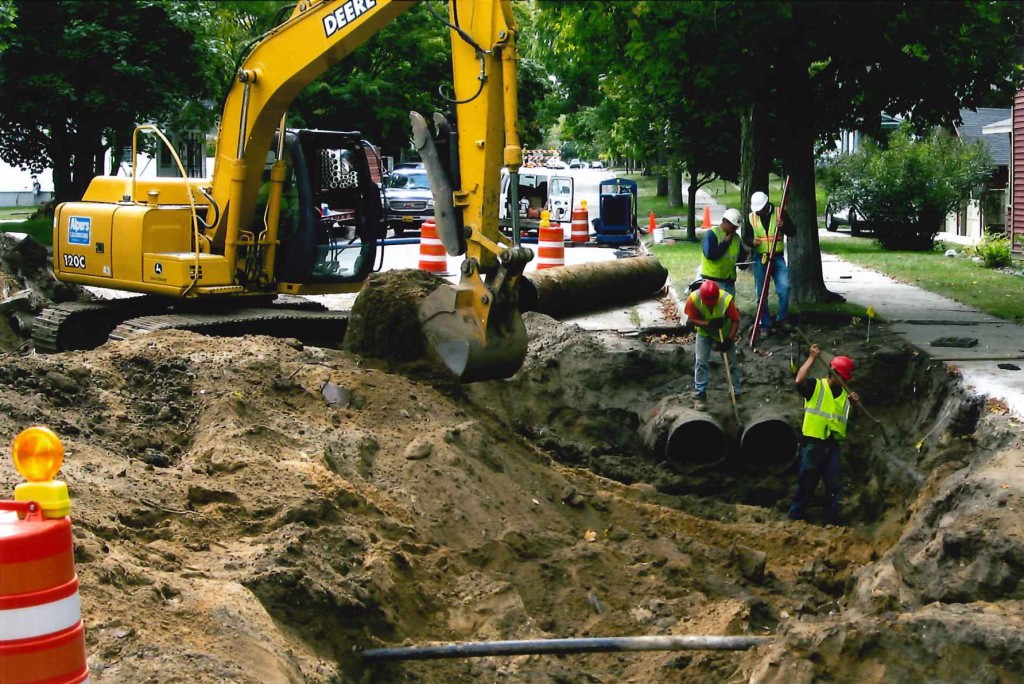 Laborers are valued crew members who work on a variety of different jobsites. This is a full time position M-F with lots of overtime. Laborers perform handwork outdoors in all weather conditions, using a variety of company-provided tools such as shovels, hammers, tape measures, and power tools such as concrete saws, jackhammers, compactors & chainsaws. Familiarity with this equipment is preferred, but not required as all necessary on-the-job training is provided! Laborers can work on various jobsites ranging from small projects, to large developments, sometimes working on different jobsites every day. Alpers Excavating is seeking individuals who enjoy working outdoors and are physically able to perform demanding labor. Wages are based on previous experience.
Duties and Responsibilities:
-Arrive to work on-time and wearing appropriate clothing to spend the entire day outdoors. Company T-shirts and sweatshirts are provided!
-Perform labor as directed by the jobsite foreman, while working as part of a team.
-Operate hand tools including: Shovel, Hammer, Laser level & Tape Measure.
-Operate power tools including: Concrete/PVC Saw, Jackhammer, Compacter, Chainsaw & Backpack Blower.
-Operate company vehicles such as pickup trucks and vans.
-Adhere to safe working practices such as wearing PPE, being observant, helping others, and following instructions.
Requirements and Qualifications
-Valid driver's license.
-Ability to work outdoors all day in a fast-paced environment.
-Ability to learn and practice new skills.
-Ability to think fast and react to new situations that develop during the job.
-Ability to follow all safety rules, including but not limited to OSHA and MiOSHA construction regulations.
-Ability to read and interpret measurements and make important decisions based on the requirements of the project.
-Ability to accurately and honestly fill out a paper worksheet at the end of each day describing the work you performed during the day.
-Ability to read and interpret a daily schedule.
-Ability to pass random drug tests.
Typical Tasks Performed by Laborers
-Installation of underground plumbing such as drainage and septic systems, water lines, and conduit.
-Tree clearing, using chainsaw to cut up fallen trees. Picking up branches and sticks.
-Using a shovel to level bulk materials such as stone and dirt.
-Using a tape measure or laser leveling equipment to take measurements of dirt, stone, and pipe.
-Using a compactor in tight spaces to compress soil in and around future buildings and roads.
-Using a backpack blower to remove sand from driveways and road surfaces.
-Using a concrete saw and jackhammer to break up sections of roadway and sidewalk prior to installation of underground utilities.
Why work at Alpers?
Alpers Excavating is a family owned business that began over 50 years ago in Traverse City. Alpers treats employees with respect and offers competitive wages and benefits. Employees maintain a friendly atmosphere and work in teams to finish projects. We take great pride in our high quality of work to maintain a high regard of customer satisfaction. On-the-job training is provided for all tasks you're unfamiliar with!
If you have any questions about this position, please call our office at (231) 943-4710.
You are welcome to stop by during business hours M-F to apply in person, or apply online by clicking below.
Alpers Excavating is an Equal Opportunity Employer